This article needs cleanup!
This article probably doesn't meet the style guidelines, and therefore needs some work. General cleanup needs to be done to improve this article.
Blood Bath

Item Information

Droppable

No

Type

Furniture
 This useable Blood Bath is a unique item in Castle Volkihar Redux. 
The blood bath is located in the center of the North Tower on the south wall inside the large foyer with six wooden weapon racks and many other displays.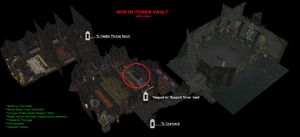 Description
Edit
When used by any character (even NPC's) all clothing is removed. A well fed buff and cleansed effect results from its use.
For NPC's the clothing will automatically re-equp after leaving this tower through a load door. However, the Dragonborn will have to re-equip clothing, jewelry, weapons and armor manually.
Only when the Dragonborn has chosen the gift  from Harkon in the Dawnguard quest Bloodline, or has Sanguinare Vampiris and has turned into a vampire, will they then benefit from the blood bath's full effects listed below. Non vampires will simply get cured of all diseases. NPC's do not receive the buff effects from the blood bath.
Fortify Sneak 40%
Muffle 35%
Well fed
Cures all curses and disease, but does not remove vampirism (the disease known as Sanguinare Vampiris).
Ad blocker interference detected!
Wikia is a free-to-use site that makes money from advertising. We have a modified experience for viewers using ad blockers

Wikia is not accessible if you've made further modifications. Remove the custom ad blocker rule(s) and the page will load as expected.