Climates of Tamriel

Mod Information

jjc71

Version

v3.1

Location

Skyrim

Mod Links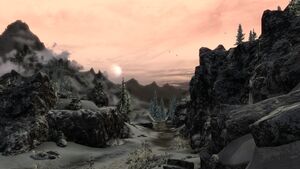 Climates of Tamriel is a mod for The Elder Scrolls V: Skyrim. It greatly overhauls the visual effect of Skyrim's sky, both during day and night, and makes it look far more realistic.
The following are just a few of the things added by this mod:
Retextures clouds
2024 unique days, nights, sunrises and sunsets
Adds 506 new unique weather systems
Adds fork lightning to the sky
Adds new thunder sounds
Adds new sun and sunglare
Related Mods
Edit
Ad blocker interference detected!
Wikia is a free-to-use site that makes money from advertising. We have a modified experience for viewers using ad blockers

Wikia is not accessible if you've made further modifications. Remove the custom ad blocker rule(s) and the page will load as expected.