Fjona

Character Information

Race

Gender

Female

Class

CombatScout

Skills

Technical Information

No

Level Modifier

PC x01

Base ID

Ref ID

Voice Actors
Alice Bell, Arisen1
Fjona is one of the various characters added by the Interesting NPCs mod. She was voiced by Alice Bell in versions after v3.05. Prior she has been voiced by Arisen1. She can be encountered in Greywater Grotto.
Background
Edit
Fjona's village was attacked by Falmer when she was a child. She then summoned a familiar, which she considers one of her protections. She is a former Companion but now travels as a bard and hunter. Terrified of close combat, she only wears heavy armor, though this is unconventional due to her being a ranger.
Related Quests
Edit
To make the giant sleep, Rumarin suggests a to find a person that can not only sing, but also fight. Hence Fjona comes as a suitable choice. During the quest, she will change her heavy armor to a light armor.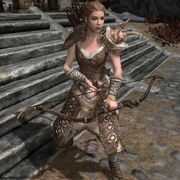 Ad blocker interference detected!
Wikia is a free-to-use site that makes money from advertising. We have a modified experience for viewers using ad blockers

Wikia is not accessible if you've made further modifications. Remove the custom ad blocker rule(s) and the page will load as expected.