Teleport Pad

Item Information

Droppable

No

Type

Mechanism
Thirteen teleport pads are added by Castle Volkihar Redux. All of these pads including the return to castle volkihar spell are tethered to Teleport Tower West.
The locations of teleport pads to internal destinations (tethered to the Soul Well at the center of Teleport Tower West):
The locations of teleport pads that go to external destinations (found on the top floor of Teleport Tower West lined against the walls):
Description
Edit
In order to use these portals one simply steps onto the pad and is teleported to the destination it is tethered to. The Dragonborn will graphically be struck by lightning and turn into a swarm of bats before teleporting.
Skyrim is a very large place with many destinations so a teleport system is integral to getting around. Valerica brought her knowledge of the Soul Cairn's teleportation magic to Castle Volkihar. It includes two teleportation networks, one internal to the castle and one to six major cities across Skyrim.
The external teleport pads are lined around the main room of Teleport Tower West, each has a road signs above them with the name of the destination city they are tethered too. All of the internal teleport pads are tethered to the soul well at the center of Teleport Tower West (soul well is seen in the picture below).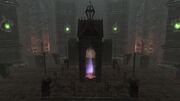 Not really a bug, but one should take note; Inside Teleport Tower West in the center of the room is a return only pad inside a soul well. One cannot travel from this pad, only to it!
Ad blocker interference detected!
Wikia is a free-to-use site that makes money from advertising. We have a modified experience for viewers using ad blockers

Wikia is not accessible if you've made further modifications. Remove the custom ad blocker rule(s) and the page will load as expected.