Wet and Cold

Mod Information

isoku

Version

v2.02

Location

Skyrim

Mod Links
Wet and Cold is a mod for The Elder Scrolls V: Skyrim, authored by isoku. Its purpose is creating a more immersive feeling by making NPCs go inside during storms and wear a cloak when it rains.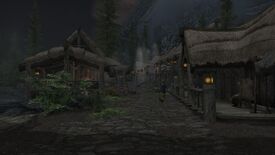 Adds little breathing-clouds to NPCs in cold weather.
NPCs flee inside during storms.
NPCs will wear headwear during snowfall and rain.
Holidays version: creates a bit more ambiance in the cities as they celebrate traditional holidays.
Ashes: applies original Wet and Cold to Dragonborn, but with ash instead of snow.
Ad blocker interference detected!
Wikia is a free-to-use site that makes money from advertising. We have a modified experience for viewers using ad blockers

Wikia is not accessible if you've made further modifications. Remove the custom ad blocker rule(s) and the page will load as expected.